All-Natural Health & Beauty Products
For You and Your Pet
Swamp Rabbit Suds is so excited to bring you their revitalizing and restorative collection of health and beauty products. Made with love, care, and a commitment to bring their healing products to others, Buster and Bunnie hope to make you feel better, inside and out.
Oatmeal & Honey Pet Shampoo
Don't forget your furry, four-legged friends! Buster and Bunnie have become friends with lots of dogs on the Swamp Rabbit Trail. They notice many are scratching and itching due to dry skin or allergies. This carefully formulated Shampoo will give them instant relief and make them smell wonderful!
Shop Now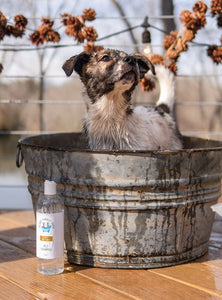 New Favorite Soap!
"Swamp Rabbit Suds is my new favorite soap and bath bombs! I love the way it leaves my skin glowing and moisturized. I went to the beach this summer and even if I don't get sunburnt, I always peel, but I used this soap while there and I didn't peel at all. I also love the fact that all the products are American made! I will certainly be a lifetime user of the brand!"
— Erica
Duncan, SC
Wonderful!
"I have tried several products from Swamp Rabbit Suds and have enjoyed each and every product. The handmade soaps and bath bombs are absolutely wonderful! The aromas are incredible and leave my skin feeling so soft. The Oatmeal Milk & Honey pet shampoo is the best smelling pet shampoo, by far, and is really gentle on my dog's coat. I will certainly purchase these products in the future and look forward to trying other products from Swamp Rabbit Suds! "
— Sandra
Piedmont SC
All Natural
"First of all, I am in love with the Swamp Rabbit Suds logo! It's very authentic and adorable. When I used this bar of soap for the first time, I noticed the berry-like smell; It was very pleasant and not at all overwhelming. The Swamp Rabbit Suds soap made me feel fresh and soft after use, and knowing that these are all natural ingredients only made that 'clean' feeling better. "
— Kylie
Greenville SC
Highly Recommend
"I have been using the oatmeal, milk and honey handmade soap and love it! My skin feels so smooth afterwards. Has a great scent and love the fact that it is made in the USA! I highly recommend this product!"
— Sherry
Greenville SC
Pleasantly Surprised!
— Nada
Simpsonville SC
Only Use Natural Ingredients!
My family and I love the Swamp Rabbit Suds soap and pet shampoo! They have a great, mild aroma without too much perfume. The soap also lasts a really long time in the tub. We especially appreciate that they only use natural ingredients.
— Pei
Knoxville, TN
Left my dog's coat shiny, soft, smooth, and smelling great!
At first, I was hesitant about trying a new shampoo on my dog. She had been using the same pet shampoo, from the big box store, as long as I have had her. Wow, did I underestimate Swamp Rabbit Suds Pet Shampoo. It left her coat shiny, soft, smooth, and smelling great. So much better than her previous shampoo. I should have been using this shampoo all along. So glad I tried it. I will not be using any other shampoo on my dog.
— Thomas
Taylors, SC
Soothed Eczema!
My family used the Jumpstart and the Wild Hare soaps and loved both of them! Both of these bars lasted a long time and produced a very good lather and smell amazing! Both of my boys suffer from eczema, and the soap really was soothing for them and it was nice that all of the ingredients are all natural. We look forward to trying new scents (although it will be hard to surpass my favorite which is Jumpstart), and being regular customers of this shop.
— Christa
Taylors, SC
These soaps are brilliant!
These soaps are brilliant! Silky smooth application leaves the skin feeling soft, subtle, and all-around wonderful. The scent amounts to aromatherapy – smells luxurious while using and leaves your body feeling fresh all day.
— Dan
Rancho Palos Verdes, CA
I love the quality, gentle fragrance, & the afterglow!
I love your products! I love the quality, gentle fragrance, and the wonderful afterglow to my skin making it feel moisturized and beautiful to the touch.
— Elyse
Rancho Palos Verdes, CA
MADE IN THE USA
Woman Owned. Eco Friendly. Cruelty Free.
SECURED PAYMENTS
We accept all major credit cards.